How It Works
"If you are going to get anywhere in life you have to read a lot of
books." – Roald Dahl
The short story
"Books sent. Kids read. Happiness ensues."
OK, so while Hemmingway and his 6 word story telling method may approve there's obviously a whole lot more to the Kids Read Now process.
So let's start at the beginning with a phone call.
Once upon a time…
The long story
…there was a stressed out District Administrator called Chantelle.
She was eager to implement Kids Read Now for her schools (she'd heard such good things!) but was worried about adding yet another thing to manage to her already overflowing to-do list.
So, in between emergencies, she found a moment to call our friendly support team. It rang a couple of times then connected.
"Good afternoon, Kids Read Now, Sheila speaking, how can I help you today?" Sheila said, putting down her coffee.
"Hey Sheila, how are you?" said Chantelle, "So. I think I want to buy in to your program but the last thing I need is more work, you know? I've been burned in the past by companies that promised me the earth but gave me nothing but headaches. How does your program work? In the real world, mind you." She was drumming her long nails on her desk.
"Sure, of course, I get it. We get asked that all the time. Let me guess, it's your job to make sure teachers use whatever the district buys into?"
Chantelle gave a short bark. "How did you guess?"
"OK, you can relax, I got you. Kids Read Now works because we don't burden you with extra work. You got a pen?"
"Uh huh." Chantelle grabbed a biro from her pen pot and flipped a blank page over in her pad.
"Right," said Shiela, "let's talk about what you need to do first".
The role of a District Administrator in setting up a Kids Read Now account
As part of introducing the Kids Read Now program to your school communities we ask that District Administrators send us:
Point-of-contact details
An updated academic calendar
A CSV spreadsheet with student details
We provide all the necessary forms and paperwork. These elements help us structure and personalize the experience for your schools and students.
And that's it?" said Chantelle.
"Yes, pretty much" confirmed Sheila, "we have a team of experienced Admin staff that take care of setting everything up, data and such like."
Chantelle put down her pen. She'd was pleasantly surprised. "And how much will it cost me to get all that done?"
"Nothing. All part of the service."
"Well, alright" Chantelle said. "But what about my teachers? My goodness, I can get some cold looks when I ask them to try something new."
"Oh not to worry. That's the fun stuff. Still got that pen handy?"
The role of the teacher in the Kids Read Now program
Step 1 – choosing the books
Step 2 (optional but recommended)
In collaboration with Kids Read Now staff, students, parents, teachers, and administrators are invited to a Family Reading Event kick-off.
Parents are shown how to help their child read and build comprehension using the Discovery Sheets inside each book's front cover.
Parents and students are also introduced to the features and benefits of using the mobile app, and shown how to download it.
"That sounds fun" said Chantelle, "but who organizes it, hosts it and things like that?"
"We've done hundreds of these kick off events. It's organized in partnership with the local school staff. It's optional but I have to say we do see better results from schools that have the event compared to those that don't. Plus you should see the kids' faces when they get their first book. Some of them haven't owned one before."
"I hear that" said Chantelle. She pursed her lips. "So what happens next?"
"We handle everything from here."
Sheila smiled. She liked talking about this next part.
It's when the magic happens, she always thought.
The role of Kids Read Now team
Every 7 to 10 days we mail out a new book and follow up with parents once a week via automated reminders, prompting them to check on their child's reading progress.
Parents are also asked to encourage their child to answer one of the comprehension questions from the Discovery sheet, and to report the book as having been read and discussed so their child can advance a space along the interactive journey on the free mobile app. They'll be able to see their progress against their classmates.
"You're selling me Sheila, you really are. So let's say it's been running in our district for a year. How do I know it's having an impact? You know I'll be asked."
"I admit I'm more of a words than a numbers gal but we have that covered too. Every school has a dashboard where you can see what's going on. I'll go through the types of data you can get from it. Ready?"
The role of data in the Kids Read Now process
Educators can track the progress of their students at the district, school, classroom, and student levels in real-time, 24/7.
If desired, educators can download their data so they can group and analyze it in different ways
At the end of each program, summer, fall, and winter, educators will receive a summary report with all of their statistics including an analysis of the impact on reading scores (when that data is provided).
Chantelle interrupted. "Hold on. What happens to all the books you send out? Do parents have to send them back, 'cos that ain't going to happen."
"That's the best part", said Sheila, "kids get to keep all the books. If a child falls in love with a book we want them to be able to re-read to it, over and over. No sense in asking for the books to come back to the school. Mom and Dad don't need to worry."
"You must send out a ton of books" said an impressed Chantelle.
"Oh yes, over two point five million as of this month."
"And this process works? I mean, REALLY works? Kids see reading gains? ALL kids?"
"It sure does. We've got independent research to back everything up and thousands of happy customers and kids. I'm proud to work here, I really am."
"Well Sheila. I guess I only have one question left".
"Shoot"
"Where do I sign up?"
We love simple processes that work.
The Kids Read Now Book Wish List – built for teachers as well as students and parents.
Super easy and quick to use.
You can easily identify the proper group of book titles that fit each student's reading level from pre-kindergarten through 6th grade. Sections are coded by color and shape. We encourage you to select a mix of challenging and fun/less challenging books for students.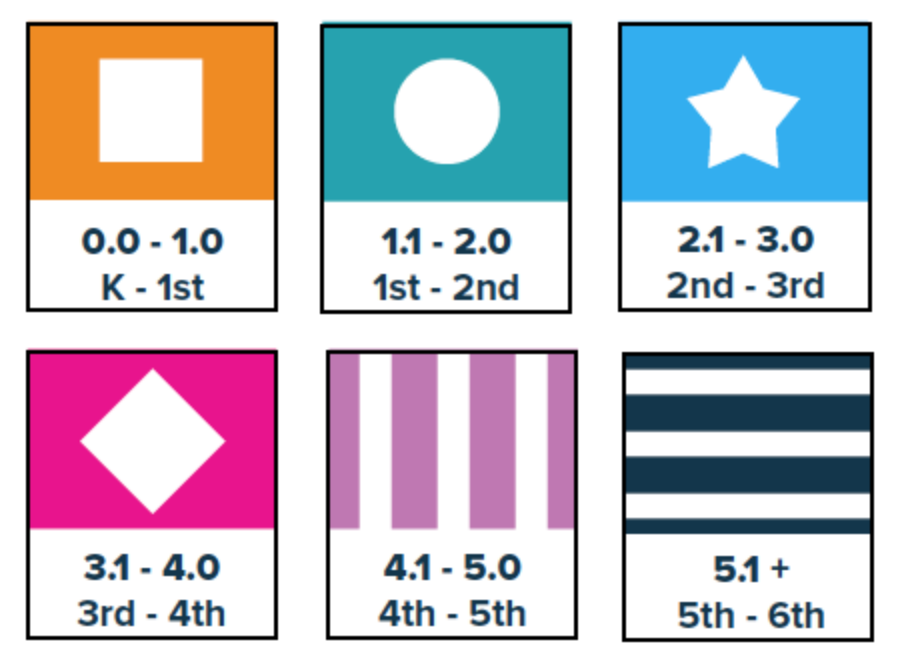 Book icons make it easy to pick out titles from a variety of interests including Bilingual books (English and Spanish), Fiction/Nonfiction, Series books, Read To Me books, Award Winners, Multiethnic, Social Emotional Learning, and Student Favorites.