About Us
"You can find magic wherever you look. Sit back and relax,
all you need is a book." – Dr. Seuss
Kids Read Now is a non-profit organization that delivers in-home book reading programs that get PK-5 students reading more frequently and consistently.
We get that you're doing everything you can to accelerate reading gains.
Every teacher knows, in their bones and from countless studies, that reading underpins every aspect of educational success.
But you're missing one piece. A piece that's extremely difficult to do – get kids reading more while at home.
While this objective isn't new, how we have accomplished it is.
Our mission is to help educators eliminate reading gaps amongst students in pre-kindergarten through fifth grade.
In the beginning…
The Kids Read Now journey started with one family
It was the 1960s when Ellen Lurie brought a young Leib, future co-founder of Kids Read Now, with her as she testified before Congress about the need for pre-school programs in low-income communities.
Ellen had already started an innovative community pre-school program in Harlem, that later went nationwide under the name 'Head Start'.
At a young age, Leib had become acutely conscious that access to education was not equal from community to community.
This awareness continues to underpin his mission, and our company mission – to reduce the widening achievement gap between rich and poor.
It was ten years ago when fourth-grade teacher Barb Lurie, and her husband Leib Lurie, a tech innovator, felt compelled to tackle the most challenging contributor to the reading gap – eliminating the summer reading slide amongst at-risk students.
This was a hefty goal, and something no school or district, teacher, or administrator has been able to stop. We contend that's because the summer slide doesn't happen in school, it happens at home.
We just knew that a viable, successful, scalable literacy program could be developed and would give disadvantaged kids a real opportunity to become great readers and, in turn, give them the means to escape a life of poverty.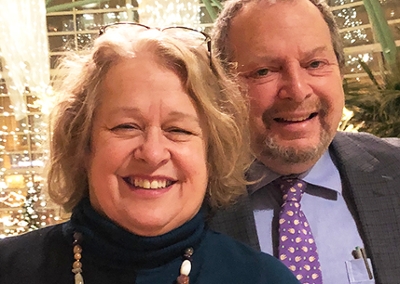 …Now
Put your trust in the process
Kids Read Now collaborates with hundreds of school districts across the country, enabling schools to "gift" curated books directly to students homes – all year long.
We work diligently every day to give our school partners everything they need to keep their kids' reading skills growing.
And it works.
Oh boy, it works.
Kids Read Now is proven to effectively reverse the summer reading slide and start students on a journey to better grades and a lifelong love of reading.
And we're bursting with pride to say independent researchers, teachers, and families agree.
We have ESSA Tier 2 evidence-based proof that our program eliminated the summer reading slide even amongst at-risk students whose families struggle financially.
We were humbled and honored to be selected as one of twelve 2022 Library of Congress Successful Practice Honorees for our implementation of highly successful practices in literacy promotion.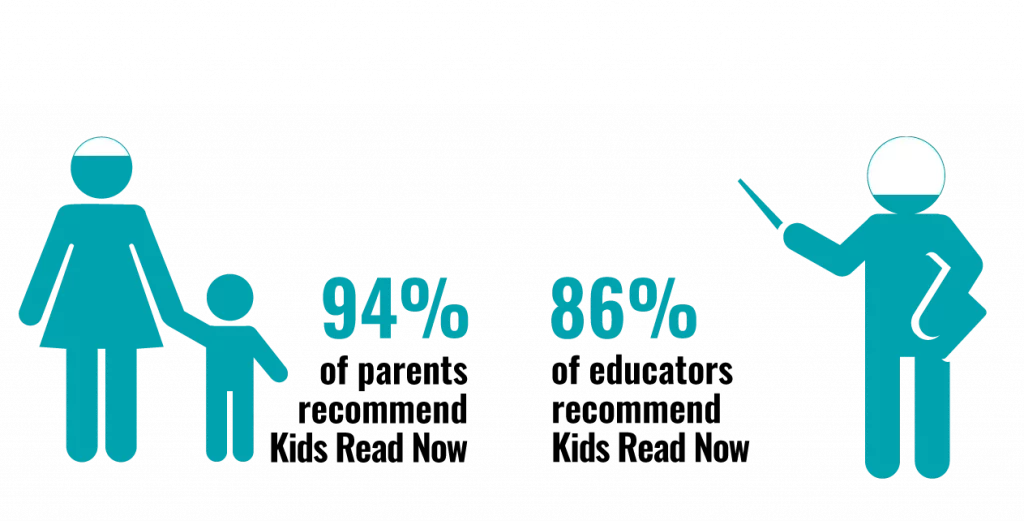 2023 Impact Report
Kids Read Now helped 133,557 PreK-5th grade students strengthen their reading success within 250 school districts nationwide… just this year! Get our Impact Report to learn more about how we are making a difference.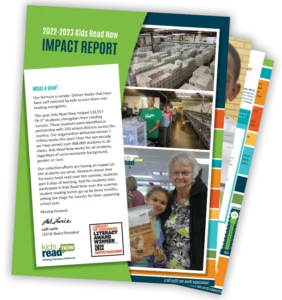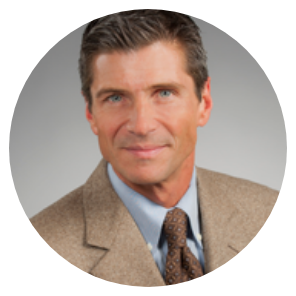 …Kids Read Now can more than eradicate the entire 2 months of summer learning loss experienced by low-income students. (The program) offers consistent and replicable positive impacts, and it is a model that can be scaled. This is highly important.
Geoffrey D. Borman
Foundation Professor of Quantitative Methods and
Education Policy Arizona State University, Mary Lou Fulton Teachers College
337,691 students served.
2,560,178 books delivered.
Big numbers, for sure. And growing every day as we welcome more schools and districts.
But our North Star, our motivation, is a single child, lying tummy-down on their bedroom floor, chin in cupped hands, legs intertwined, engrossed in a book.
We remember that feeling. And we're sure you do too. Every child, no matter their personal circumstances, deserves to experience it.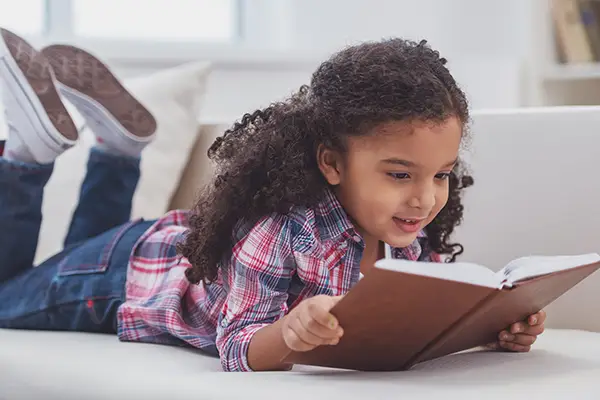 This is a wonderful program that my child adored. It helped expand his vocabulary and reading skills, preparing him for the upcoming school year. He has gained more confidence in using his reading and communication skills with this program, sounding out words and comprehending them more easily.
Ruby
Parent
Preston County Schools, West Virginia
Why do educators choose us?
What makes our program successful is our team – a diverse mix of educators, technical innovators, service, delivery, and communications experts.
But we're also mothers, fathers, sons, and daughters. Bonded by a core belief.
Every one of our team members is dedicated to our mission to help kids build a better life for themselves, their families, and our communities, by helping them become proficient readers.
And that's why, if you talk to any of us, sooner or later you'll hear us quote Harry S. Truman when he said, "Not all readers are leaders, but all leaders are readers."
We had wonderful feedback from family members after the program was over. The children love receiving a book in the mail during the summer months. I truly believe that this program helps us eliminate the Summer Slide.
Taryn M.
Curriculum Director
Springfield Local Schools, Ohio