Big Chickens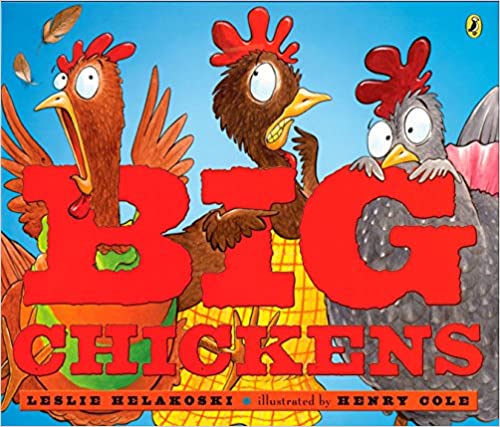 For a bunch of silly chickens, everything is dangerous. But running away isn't easy! These four hilarious hens keep trying! See what happens!
Discovery Questions
After your child receives and reads this book, Discuss one or more of the following questions to help him/her make connections and build comprehension.
The four big chickens are afraid of almost everything. What are you afraid of? Why? Talk about it with a parent.
Think of another story with a wolf in it. How is the wolf in that story like the wolf in this story. Use a Venn diagram. List five ways they are alike. Then list five ways they are different.
Every time the chickens encountered something they were afraid of they ran. Why did they run? Was this the best thing to do? What could their other options be? Talk about it with a parent.
Why does the wolf run out of the cave? Where does he go? Write that story. Share it with a parent.
Book Details