Magic Tree House: Tonight on the Titanic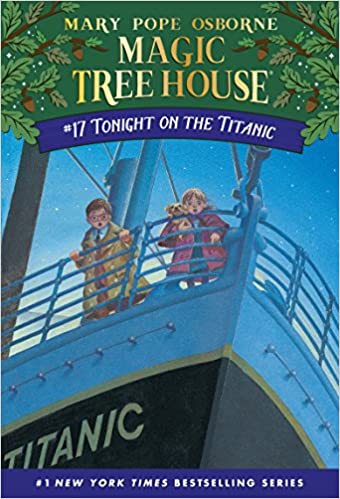 Annie and Jack travel back in time to the Titanic. Why did they go there? Will they be able to get home before it sinks?
Discovery Questions
After your child receives and reads this book, Discuss one or more of the following questions to help him/her make connections and build comprehension.
Jack and Annie met William and Lucy, who were on their way to meet their parents. William and Lucy were afraid. When have you been afraid? Write about it. Share your story with a parent.
Think of another story where someone helps a small animal. Use a Venn diagram. How is that character like Jack and Annie? How are they different? Share your diagram with a parent.
When the Titanic sank, more than half of the passengers and crew sank with her. It was a horrible loss. But it changed ocean travel forever. What good came from it? Make a list. Talk about it with a parent.
What happened to William and Lucy? Did they arrive in New York? Did they find their parents? Write the story. Share it with a parent.
Book Details