Miss Nelson Is Missing!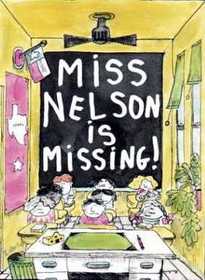 The kids in room 207 were naughty. Miss Nelson couldn't make them behave. But beware! Miss Viola Swamp is their new teacher!
Discovery Questions
After your child receives and reads this book, Discuss one or more of the following questions to help him/her make connections and build comprehension.
The children in Miss Nelson's class were behaving badly. They knew they were behaving badly. When have you seen someone behave badly? How did it make you feel? Talk about it with a parent.
The children call Viola Swamp a witch. Think of another story that has a witch in it. Use a Venn diagram. Find five ways the witch and Viola Swamp are alike. Then find five ways they are different.
The children in room 207 did not listen to Miss Nelson. Why? How did that make Miss Nelson feel? Discuss this with a parent.
Pretend you are a child in room 207. Write a letter to Miss Nelson asking her to come back to school. Ask her to forgive all of you. Share your letter with a parent.
Book Details