Narwhal: Unicorn of the Sea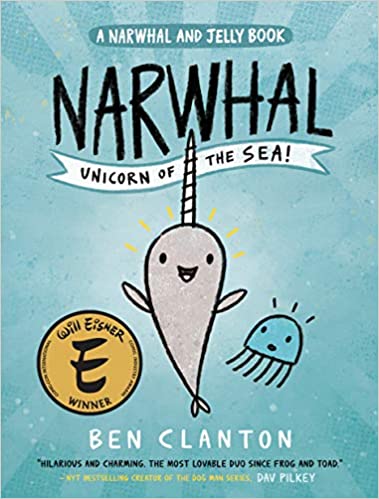 Narwhal has many great ideas. He starts a club. He finds friends. He makes up stories. What adventures will he have?
Discovery Questions
After your child receives and reads this book, Discuss one or more of the following questions to help him/her make connections and build comprehension.
Narwhal likes waffles. What is your favorite food? Do you eat it every day? Talk about it with a parent.
Narwhal lives in the sea. Think of other characters who live in the sea. How are those characters like Narwhal? How are they different? Talk about it with a parent.
When Jelly meets Narwhal he is confused. He has never seen a creature like Narwhal. They become friends. Why should you not judge people on how they look? Discuss this with a parent.
Trash is a problem. Sometimes it ends up in the ocean. This makes the ocean dirty. Is this a good or a bad thing? How does it affect the creatures who live there? Discuss this with a parent.
Book Details