Why Do Snakes Hiss?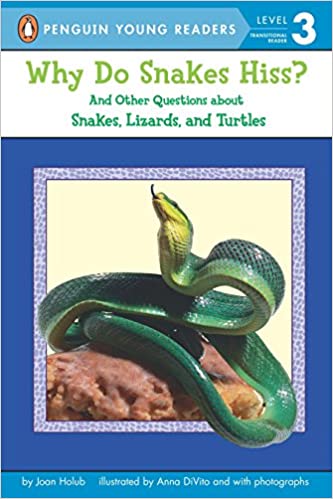 Are all snakes venomous? Why do snakes shed their skin? Why do turtles have shells? Kids will find those answers - and many more - in this fun, fact-filled introduction, perfect for any reptile lover!
Discovery Questions
After your child receives and reads this book, Discuss one or more of the following questions to help him/her make connections and build comprehension.
Have you ever wanted a snake, a lizard or a turtle as a pet? Do you think they would make good pets? Why or why not? Make a list. Share your list with a parent.
All animals need to defend themselves from predators. In your opinion which animal in this book has the best defense system? Why? Talk about it with a parent.
Some people are afraid of reptiles. Make a list of possible reasons why. With a parent's help, talk to adults. See what they think. See how many you can list.
Pick two of the reptiles in this book. Invent a story where they meet. Write your story down. Share it with a parent!
Book Details