Every year we survey parents and educators on what they like or would have us change about their child's summer reading program. Thousands participate via survey links sent via text, app, and email— in multiple languages.
We use a common system used by thousands of companies across the globe to measure customer satisfaction called Net Promoter Score. Our goal is to hear that parents are enthusiastically positive about our program and the impact on their children.
This year, we scored 78.88, up from last year's 75.11. To put this in perspective, the large consulting company Bain and Co, which designed this measurement system says:
"…an NPS score above '0' can be considered to be good, anything above '50' is great and anything above '70' is excellent… and it indicates that your customers are loyal and are willing to refer to new customers as well".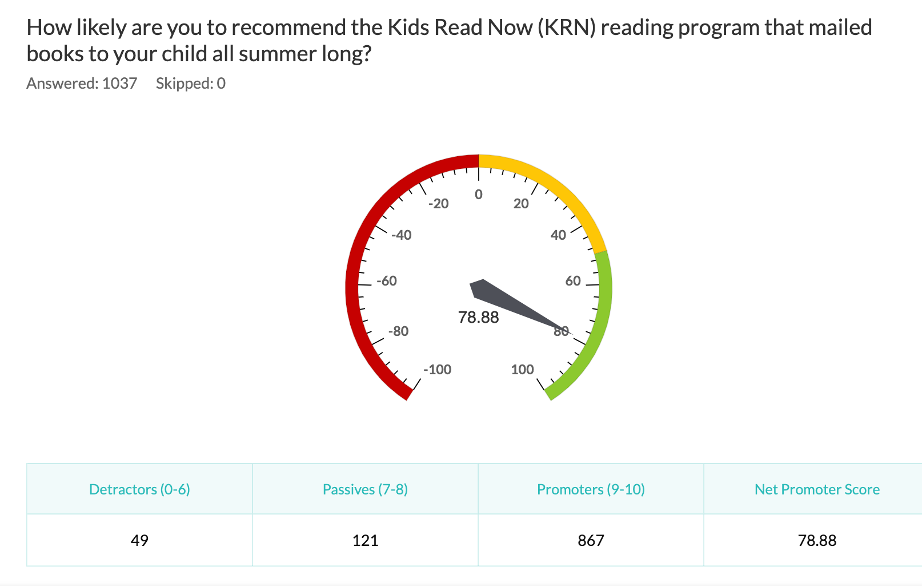 We served over 85,000 families last summer. Over the last decade, parents have left tens of thousands of comments like these:
"My daughter and I read several of the books together and then watched the corresponding movies that went along with them. It was time very well spent together!!"
"My children love choosing their books and running out to the mailbox everyday to see if the books they chose have been delivered! They love books now!"
"When my daughter gets a new book she always wants to read it to her little brother."
"This program is awesome! It\'s so great to have an extra little surprise waiting in the mailbox for my child when the summer days are long and his friends aren\'t around to play. Thank you!"
"Put the phones away, shut down computers & actually listen to the excitement in your child\'s voice when reading these books! It\'s unforgettable! It\'s helped my son tremendously! There\'s nothing like listening to my son read with confidence!"
Read more from our Fall 2022 Newsletter!
Get the "Latest in Literacy," published quarterly, sent to your inbox! Simply enter your best email below!