The Current Situation
Did you know that more than 65% of kids across the country are not reading at grade level, and the number jumps to 80% for low income students? Kids Read Now's mission of eliminating learning loss and building home libraries for every PreK-5 student in the country is more important and pressing than ever. We are currently partnering with schools in over 30 states, and we have plans to expand to all 50 states by 2025. The Kids Read Now (KRN) in-home reading program is evidence-based, and replicable. Unlike other book programs, Kids Read Now includes unique components like student choice and parental engagement.
New KRN Initiatives
We would love to extend a warm welcome and immeasurable gratitude to the innovative Kids Read Now Development Task Force. The Development Task Force is tasked with developing ongoing fundraising strategies that will leverage monetary support from corporations, foundations, and individuals. Subsequently this allows Kids Read Now to reach more kids in need across the country and build home libraries in even the driest book deserts.
Loki Mulholland – Public Speaker, Emmy Award-Winning Filmmaker, Activist, Author
Lisa Washington – Emmy Award-Winning Journalist, Evening News Anchor at WNEP-TV
Dr. Kamshia Childs – Assistant Professor at Texas A&M University-Commerce
Cameisha Arnold-Lee – CIO for TE Connectivity, Defense Division
Noah Reandeau – President of Model Solutions
Lauren Bernaldo – CCO for Lee County Tax Division
Leib Lurie – Kids Read Now Co-Founder and CEO
El Cabrel Lee – Kids Read Now Director of Development
Christina Brownlee – Kids Read Now Director of Marketing
Joy Plunkett – Kids Read Now Director of Human Resources
Chante Alexander – Kids Read Now Account Manager
Emily Fleming – Kids Read Now Product Specialist
Upcoming Events
Kids Read Now is excited to announce our anniversary event on June 1, 2022 from 12pm – 2pm. We will celebrate our recent move to a bigger and better fulfillment center, 10 years of building home libraries for kids, and the delivery of our 3 millionth book! Educators, authors, and local dignitaries will speak and we will present a scholarship to an original Kids Read Now student who is entering her first year of college in the fall. Please visit this link for more information and to RSVP to attend!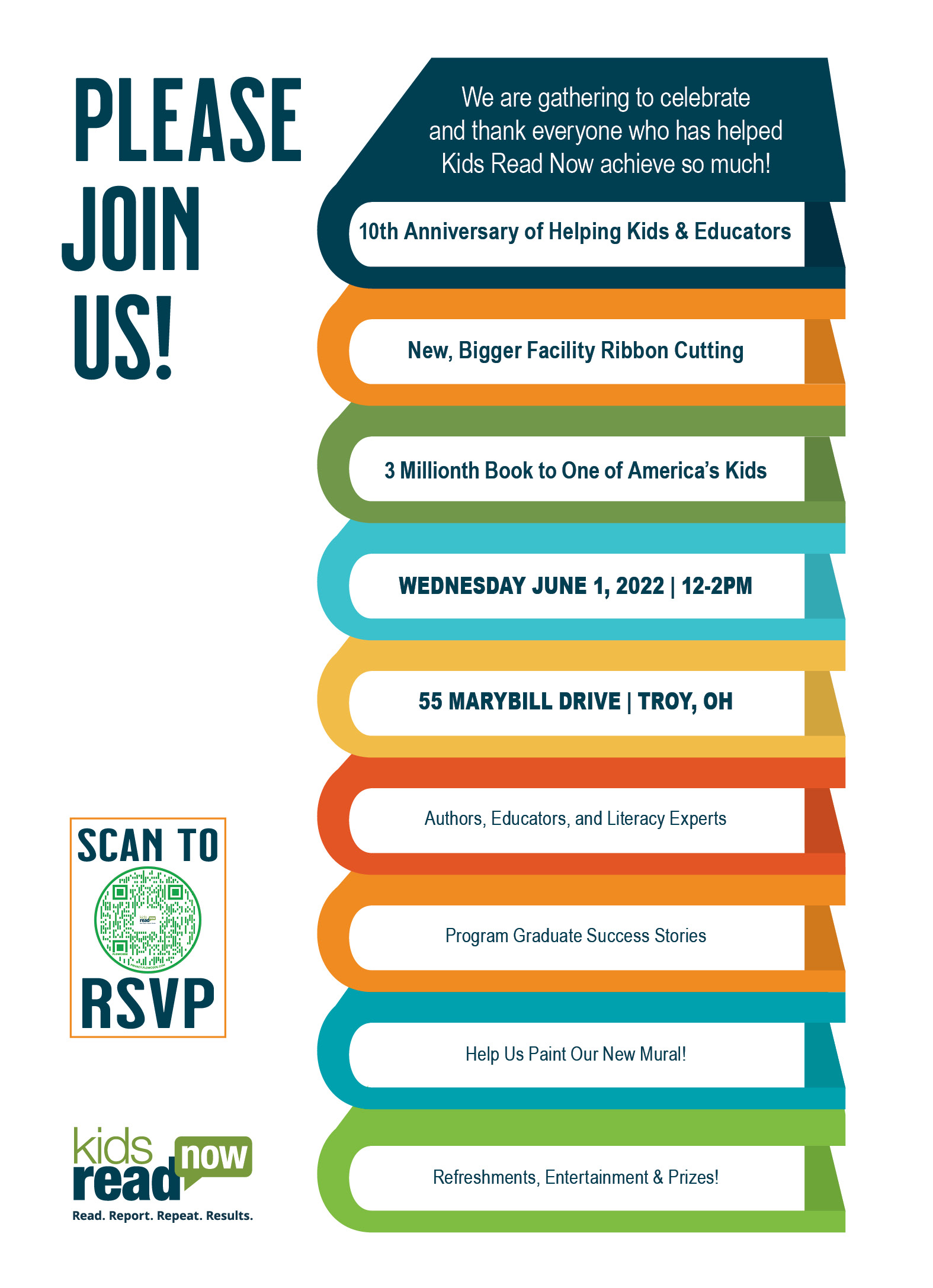 Read more from our Spring 2022 Newsletter!