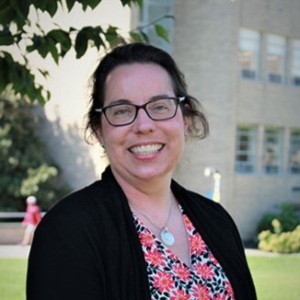 Dr. Wendy Strickler
Assistant Professor, Graduate Education
Wendy Strickler is an Assistant Professor in Reading Science and Director of Teacher Advancement Programs. She has a Ph.D. and Masters from the University of Cincinnati, with a Curriculum Instruction and Professional Development license from Miami University, and a bachelor's degree from McGill University in Montreal.
Wendy has taught courses at MSJ and worked in PreK-12 education for about 20 years. Her experiences include District Lead Psychologist in Forest Hills School District, coordinating Response to Intervention/Multi-Tiered System of Supports district-wide, coordinating ESL services, supervising psychologists, and providing staff professional development and coaching in reading, mathematics, instruction, and behavior. Prior to joining Forest Hills, she worked as an educational consultant at Hamilton County Educational Service Center and the Special Education Regional Resource Center, supporting many school districts in southwest Ohio to implement evidence-based reading practices in grades Pre-K through High School within a Response to Intervention model. She has also worked in Cincinnati Public Schools as a school psychologist and as an intervention consultant at the Lockland School District. Her career started teaching preschool for children with developmental disabilities at a lab school in Montreal, Canada.
Wendy has presented at numerous conferences, written articles for professional journals, and contributed to a National Office of Special Education Model Demonstration Site grant. She is also on the Board of the Ohio Valley Board of the International Dyslexia Association and volunteers regularly in her community.
Wendy loves teaching and is so appreciative of the opportunities to teach and learn with undergraduate, Masters, and Doctoral students in the MSJ School of Education. Her current research interests include Multi-Tiered Systems of Support, Implementation Science, Teacher Leadership, Reading Assessment and Instruction-especially for English learners, and Culturally Responsive Teaching Practices.
Wendy's personal life centers around her three amazing children and wonderful husband – who puts up with her working, teaching, and trying to be a perfect mom.
Her husband is also a teacher, so they are an education family through and through. As a family, they enjoy track, football, scouts, band, piano, theater… plus downtime for family.